A little later than I had hope, and this will take longer than last year, but I've begun digging through the BRDS 2018 responses.
A bit less than half of respondents provided their zip code, but of those that did, BRDS is still having trouble reaching people in Baltimore City –
This is pretty different than the 2017 responses (obviously, some people did not come back for the survey this year):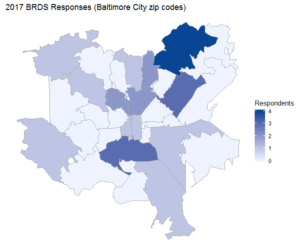 It's a been a lot of months since the end of 2017, but in the interest of filling in gaps, I'll leave the survey open. If you have any suggestions about reaching into those parts of the city, please let me know.